Kombucha also referred to as tea mushroom is a fermented, sweetened, effervescent tea drink. It is most famously consumed for its supposed health benefits. It's a beverage that has existed for thousands of years and homebrewed globally. Commercially it has been bottled and sold by various companies. Kombucha is a great substitute to sugary juices and aerated drinks, which gives us another reason to love it. 
This brings us to the Goan brand Borécha, with its operations beginning at the Latambarcem village cluster in North East Goa. The masterminds behind this brand are two brothers, Aditya Ishan Varshnei and Anish Varshnei. Aditya had fallen in love with Kombucha when he was in the United States and was missing it a lot when he returned back to India. As it was part of his daily routine and with no equal substitute for the Kombucha in India, he decided to brew it in Goa along with his brother Anish. Aditya brought back the SCOBY (Symbiotic Culture of Bacteria and Yeast) required to ferment the tea, and together with his brother Anish who is a trained chef, they decided to experiment and create their own version of the classic drink. 
Goan Insider presents the Goan Collective
Are your a Creator or a Business Owner?
Get yourself or your business listed on the Goan Collective and increase your brand awareness. Also get to know your fellow creators and entrepreneurs from Goa in our members only networking events
Learn More
After countless trials and errors, they finally produced what we today know as Borécha. Borécha is a sparkling, zesty, low-calorie, probiotic beverage from the coastal region of India that soothes your system by repairing, refreshing and rebooting it. It's an anytime, anywhere drink, be it a bar, restaurant or even the workplace. While being a great refreshing option, Borécha also makes a splendid mixer for the more adventurous consumer, complementing a variety of spirits, including gin, vodka and rum. If you aren't a fan of spirits then you don't have to worry because Borécha makes a fine addition to a mocktail as well. Basically, it is a drink to please any age group.
Living in the party capital of India, Goa, one does look for that drink which can help beat a hangover or detox. With it's addictive taste and eye catching bottling, Borécha has won the hearts of Goans. The brothers have expanded their brand beyond the state as well such as in Pune, Mumbai, Chennai, Delhi and Nainital with a presence in over 150 outlets including reputed institutions like the Grand Hyatt, Goa Marriott and Taj Vivanta. 
With its inception in 2017, Borécha is a young, innovative beverage company that strives for excellence. Their aim is to build an infrastructure around their products that is vastly different from what is available in the market today. At Goan Insider we spoke to Aditya and Anish, the founders at Borécha. The excerpts of our conversation are below.
How did the idea for Latambarcem Brewers come about?
A combination of goals and ideas led to the formation of Latambarcem Brewers. It stemmed from the love for true-to-kind 'local craft beer' made in local breweries.The mission was to bring world-class brewing styles and techniques to India. We wanted to be in a rural village setting and work with local communities to make the brewery an attraction for both tourists as well as, the locals. We found just what we were looking for in the Latambarcem village cluster in North East Goa, in the foot of the Western Ghats. The company gets its name from the village. It's our way of saying that the beverages we make are local and global.
Tell us about your product Borécha Kraft Kombucha. How many flavours do you have?
The story of Borécha is very interesting, it in fact, wasn't really a part of the plan. Yet, it's a baby which has endeared itself both to us and its happy consumers.
While working in the US, I fell in love with kombucha and it became a part of my daily routine. I found that it was indeed a great substitute to sugary juices and aerated drinks. On my return to India to set up our brewery, I missed my daily quota of kombucha, a drink which wasn't yet popular in the country. The ones that were available weren't the same as the ones I was used to consuming in the US. So, I started off doing some home experiments in making kombucha with my brother, a trained Chef and now Head of Production of our brewery, Anish Varshnei. We soon realised that these delicious home-brews were scalable.
The team then got down to work to make small batches of kombucha and figured that the drink could be launched commercially. The other advantage of this being crafted in a brewery was that the process can be controlled to get the best wellness benefits. Borécha is a tea-based fermented beverage which has only 9 grams of sugar and 30 calories in every 330 ml bottle. It's packed with antioxidants, probiotics and is an immunity booster as well as, aids in digestion. In a nutshell, Borécha soothes your system, repairs it, refreshes it, and reboots it.
We have 12 flavours: Classic, Cola, Guava Chilli, Jasmine, Mango, Orange, Piña Colada, Rose Cardamom, Hawaiian Passion fruit, Cuban Watermelon Mojito, Sicilian Lemon & Lime, and Roasted Coconut.
How did you come up with the name Borécha?
While we did have many discussions on the name, we ultimately settled for the simplest. BORÉCHA, in Konkani (the native language of Goa), it simply means 'good tea' — 'Boré' means good and 'Cha' stands for tea.
What makes your product stand out from your competitors?
Our narrative is quite different. We do not see others as competitors in a race, but fellow players in a growing ecosystem of wellness drinks. We can only talk about ourselves with no prejudice to others who may or may not be espousing the same principles. Quality, consistency and care are our founding principles. We use seasonal fruits and flavours to craft each Borécha variant. Above all, we are redefining the perception of craft. For us craft doesn't mean small, but bespoke. We produce on a scale which allows us to go commercial across stores, supermarkets, restaurants, hotels and clubs not just in Goa but across India, through an extensive distribution network.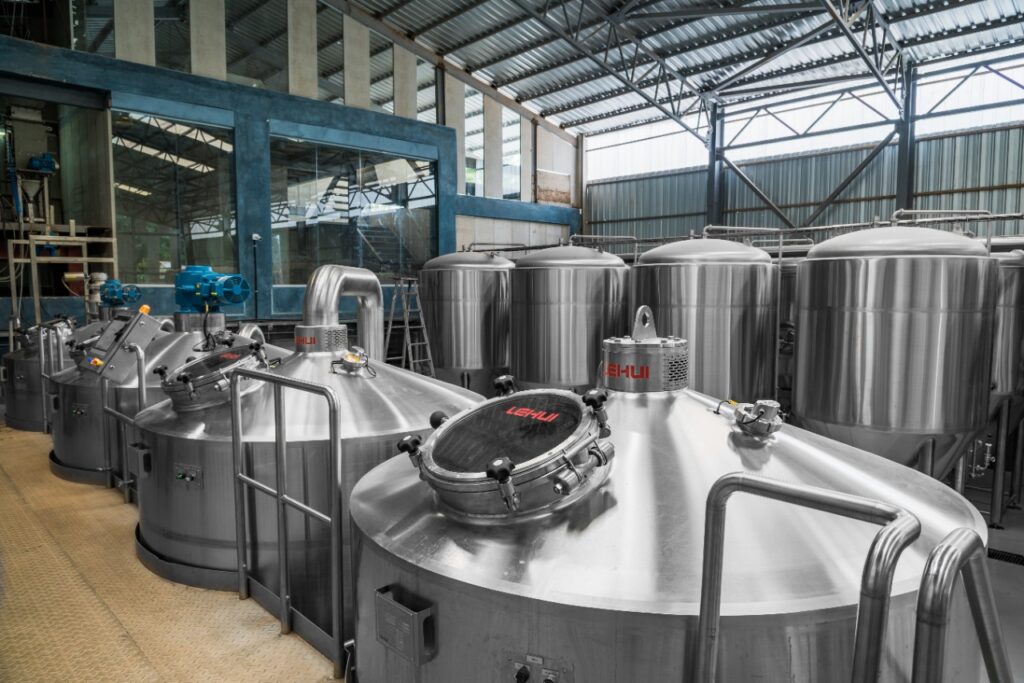 What's your company's goals?
Our goal is to see those who consume our product Borécha, enjoy themselves. The challenges for Borécha is to get people used to and accept this exciting new kind of beverage and make it a part of their daily lives. The journey of innovation for our non-alcoholic brand will lead to more exciting styles for Goa and India to taste. We would also like to enhance the consumer experience and connect through our brewery tours, tasting sessions and events. We want people who visit our brewery located far from the tourist belt, in the breathtaking natural surroundings to experience the area. As a company, we would like to connect and contribute to the local community through collaborations and partnerships, always respecting the land, its people and their customs. After all, we are guests in their land which we would like to call home.
Other than Goa, which other locations have you established your brand? Which are next in line?
For Borécha, we are available pan India, especially in the metros including Mumbai, Delhi, Chennai, Pune and more, with Goa as our base. We will definitely have an all-India presence, and are open to international tie-ups as well.
How do you market your business, and which tactics have been most successful?
We are not sure if we should discuss our marketing "tactics" as you interestingly term it. Broadly speaking, our reach out mantra is personal, simple, engaging and entertaining. We do not see customers as numbers, but people who are part of our large family, who are partners in our growth.
How do you build a successful customer base? How has their response been to the product?
For Borécha the customer base has grown through simple messaging, easy availability, home deliveries, especially during the lockdown. We have also effectively used social media both for engagement and e-commerce. The responses have been extremely encouraging.
Which are some of the hospitality brands you are associated with? 
We are available in most hotels and top-of-the-line restaurants in Goa.
As a business owner, what are you paranoid about? What keeps you awake at night?
We have the satisfaction of having done our best and launched two different brands in a short period of time. We are more excited than paranoid. However, in times when unforeseen circumstances can affect business and economy, one has to plan for exigencies. At this point, we can and will control what we can, and hope for the best. The response so far has been very exciting, and hence, we are fully energised to make giant leap forward.
What is next for Borécha?
We have just started. The goal is to expand, be available in more places and continue our journey of innovation and create more flavours.
Do you have a story to share with the world? Send us an email at contact.goaninsider@gmail.com