Digital marketing is a growing industry that aims to understand and implement new ways of approaching customers. Digital marketing experts try to understand how customers behave compared to traditional marketing. Today, from booking a hotel, or ordering food or even becoming viral bloggers and influencers has all become digital. This means that we are all connected whether we are aware of it or not. Any business not implementing this new wave of business strategies would see their immediate downfall. This is because everyone is trying to reach a global audience to obtain dominance through social media. If you decide not to play this game, then you are in for big trouble!
With the Covid19 pandemic affecting the world, human physical contact reduced drastically. This led to the growth of numerous digital marketing companies because they immediately realized the importance of an online presence for any business. We saw the same in India where some businesses were a little backward with this new marketing trend. Digital marketing startups knew that mobile is a 24/7 marketing tool as everyone is constantly on their phones. Hence, they brought new ideas to the table to target this audience.
Goan Insider presents the Goan Collective
Are your a Creator or a Business Owner?
Get yourself or your business listed on the Goan Collective and increase your brand awareness. Also get to know your fellow creators and entrepreneurs from Goa in our members only networking events
Learn More
We at Goan Insider spoke to the founders of Odyssey, a novel digital marketing firm that went a step ahead and tied up with homestays across various countries. You can not only avail of digital marketing services from Odyssey, but you can now also plan your vacation home if you are travelling to the destinations they have their tie-ups at. We sat down with the co-founders, Raj and Sakshi to learn how they grew their startup from scratch and what are their future plans. The excerpts of our conversation are below.
Tell us a little about yourself
I am Raj Patra, alumni of Alliance School of Business, Alliance University, and the co-founder at Odyssey. I am a marketer and author of The 7 Levels of Investors. I love reading and collecting books. I have a passion for traveling and I am an adventure seeker. I am always looking to gain knowledge from all aspects of my life.
I am Sakshi Jamwal, a computer science graduate from Padre Conceicao College of Engineering, and the co-founder at Odyssey. I am a web developer and SEO analyst. I am on a quest to be a better version of myself.
How did the idea for Odyssey come about? What is the inspiration behind the name?
Raj Patra: I started a freelance business in 2018 where I provided marketing services to my clients. In 2019 I began my travel journey and made business contacts in Himachal Pradesh and Uttarakhand. Our end goal is to travel the world full time, so we combined our marketing and technical skills and came up with the idea of Odyssey. It has been a beautiful and long journey and we strongly believe that Odyssey will help us achieve this.
Where is your startup based out of? Why do you think that is the best place for you?
Our startup office is in Margao, Goa but we provide services across the world. Our team's business developer is from Chicago, USA and this is going to help us target clients from the US.
What service(s) or product(s) do you offer?
Our company provides services like social media marketing, business consultation, branding & design, website development, and search engine optimization. Odyssey has also partnered with 13 homestays located in mountains to provide accommodation to travelers. We recently started with amazon affiliate marketing.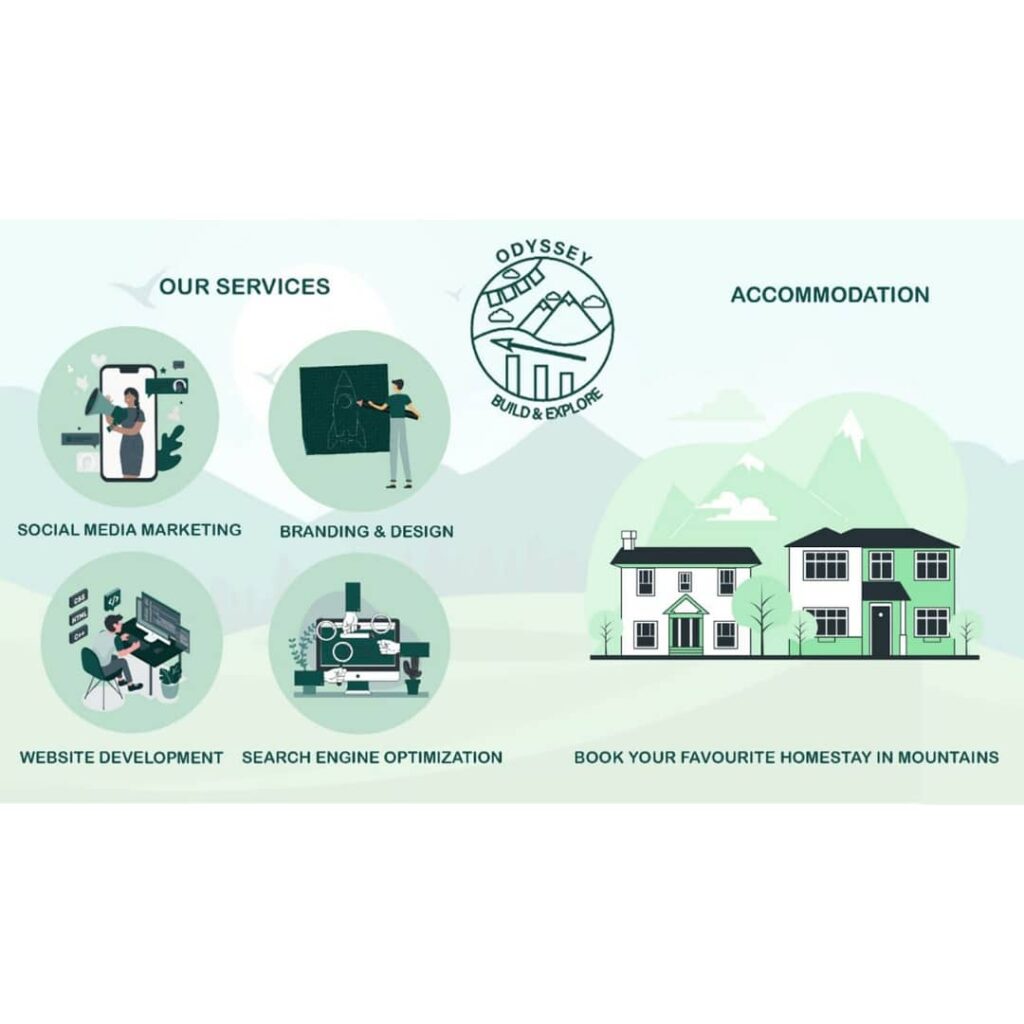 Tell us a little about your involvement in the travel sector?
We are mountain lovers and have 15 homestays located in Himachal Pradesh, Uttarakhand, Coorg, and Sikkim under our brand. Our plan for the next year is to partner with homestays located in Nepal and Bhutan.
What would you do if your client is unable to afford a package you offered?
The covid-19 pandemic has affected the businesses drastically and that is why we have come up with a pilot program. Our clients can choose this program and if they are satisfied with the results they can go ahead with our premium plan.
Which are some of the brands you are associated with? In digital marketing as well as the travel sector.
In digital marketing, we have Caro Center as our full-time client. We have many more clients who have engaged themselves in our pilot program. In the travel sector, we have reputed homestays such as Meenabagh Homes (Shimla and Ratnari), Mukteshwar Belleza, Parvati river cottage, Rivertern homestay, and many more under our brand.
What's your company's goals?
Odyssey's main goal is to help businesses build their brand and make your travel experience memorable by providing accommodation in homestays with breathtaking mountain views.
How do you build a successful customer base?
We build a successful customer base with the help of ads, optimizing our website to get a good ranking, various offers, providing our customers good service, and always giving more value than what we take in payment.
What gets you excited about this company?
Our dream has become a reality and we are very happy about the progress we're making. We have built Odyssey from scratch and are really excited to see the growth it is going to make in the coming years.
Tell us about your team and how did you meet each other?
The Odyssey team consists of 4 full-time members:
Raj Patra (Co-founder, Marketer)
Sakshi Jamwal (Co-founder, Web developer)
Philip Abraham (Design Executive)
Brenton Cribari (Business Developer in the USA)
A few part-time interns are also working at Odyssey. Sakshi and I were good friends for a long time and are now companions for life. And the 2 other team members we have known for a long time.
As a startup founder, what are you paranoid about? What keeps you awake at night?
We have really big dreams. We want to travel the world and complete our bucket list so we have to work really hard to achieve that.
How can our readers stay connected with your brand?
You can visit our website and fill in the newsletter form and we will keep updating you about our various plans, accommodation options, and a lot more.
What's coming up for Odyssey down the road?
In the coming years, we have planned to partner with homestays located outside India, write books, provide courses in marketing, SEO and web development, and a lot more.
Do you have a story to share with the world? Send us an email at contact.goaninsider@gmail.com