There are endless amounts of inspiring stories about teachers that show the strong bond between a student and the educator. It is not wrong to say that a great teacher can change a student's life. No matter how good a student is in a subject, the teacher has the ability to make the student love it even more or make the student dislike it completely.
Every teacher has their unique way of teaching a particular subject. Many teachers in the recent past have developed innovative techniques to garner interest of their students in a particular subject. A teacher can affect a students' life not only through subject matter, but by also teaching them important life lessons. These life lessons bring success beyond any examinations or class tests. This brings us to the story of Rochelle Ann Fernandes, an English teacher, who is also teaching Language and Communication Skills at Dhempe College of Arts and Science, Miramar-Goa.
Goan Insider presents the Goan Collective
Are your a Creator or a Business Owner?
Get yourself or your business listed on the Goan Collective and increase your brand awareness. Also get to know your fellow creators and entrepreneurs from Goa in our members only networking events
Learn More
In her very first year as an Assistant Professor, she designed and executed two courses in collaboration with the Digital Language Laboratory and Skill Development Centre at Dhempe College of Arts and Science. The first one was titled WordPecker: A Spoken English Enhancement Course (for students ranging from 8-15 years of age). It was designed by Rochelle and her colleague Anjali Mascarenhas. They conducted it over a duration of three days (12 hours). It focused on reinforcing spoken and performance based skills.  The second one was titled Finesse in Formal Correspondence, was designed and conducted by Rochelle herself for MSc final year students. This was conducted over a period of 30 hours that focused on helping students hone their academic and career centric correspondence. With both courses receiving a welcoming response, the parents of the former participants requested that the course be made a weekly program. The latter course helped students in campus placements with the students being praised for their communication skills.
Every decision I've made has shaped me into the teacher I am today, and I seem to be doing alright.

Rochelle Ann Fernandes
There's a different kind of satisfaction that comes along with teaching. A teacher is continuously learning as well, by reading new texts and learning new things from his/her students. What makes Rochelle unique is the participative environment she creates in her classes. To gradually ease students out of their seats, she tries to incorporate things that they believe they're already good at, whilst simultaneously helping them learn and develop existing, latent and new skills.
At Goan Insider, we spoke to Rochelle Fernandes to get to know a little more about her and her experience as a teacher. You can find the excerpt of our conversation below.
Tell us a little about yourself.
I'm the younger sibling out of two and my brother was always setting the bar high. He even learnt to read pretty easily and my mother was always worried as to why I wasn't following suit. So she sought advice from my 2nd Std teacher, Edna Rodrigues, who "punished" me by giving me extra weekly homework- reading a novel in two weeks after which I'd have to summarize it for her. She handed me Enid Blyton's Naughtiest Girl in the School, which I think I was. My mother then bought me a copy. I still have that book. Anyway, so initially, I was peeved. But then, after I finished the first novel in the series, I couldn't put these books down. I went on to read a number of other Enid Blyton series- Famous Five, Secret Seven, Mallory Towers, and so on. And now look where I am. So this is where my love for all things Literary stemmed from- I read, I write and I teach.Whilst teaching, I also design skill development courses for students- courses that bridge the gap in the curriculum. 
What interested you to get into teaching?
I'm not entirely certain. I just really loved how my teachers made me feel about a subject. I personally believe that no matter how good you are in a subject, your teacher has the ability to make you love it even more or make you dislike it completely. So I realised quite early in my learning that a teacher's personality plays a major role in the learning process. This definitely attracted me to the profession. And this whole thing of helping people came up. My parents are philanthropic and I wasn't sure if I'd be able to be like them in the future. So I wanted to do something that could help people irrespective of what my salary looked like at the end of the month. So that's where teaching came in.
You could teach in any institution around the world. What made you choose Goa? How has the experience been?
To be honest, it's just that Goa is home. And if I'm meant to make a difference, I'd rather make it happen in my home town than anywhere else. That's the mindset I had when I left Goa to pursue my Master's in English in Bangalore. And so I came back home once I got done with my course.
I actually love it. I've been given a lot of opportunities at Dhempe College of Arts and Science and that's been really helpful. My colleagues are fantastic and that makes things much easier. It's like learning from my friends. So my work environment is conducive to growth.
Which are some of the unique teaching techniques that you use? How effective have they been?
I try to be as innovative as I can when it comes to pedagogy- be it in the form of theatrics or on-the-spot interviews with unfamiliar individuals, debates, discussions, weekly academic games at the start and end of a topic, and so on. My students are always encouraged to learn in a hands-on fashion.
I've found that theatre, and the dialogue that comes along with it, helps my students remember important scenes from their texts, and the interviews, debates and discussions help them broaden their perspectives on concerned issues.  Academic games keep the excitement flowing whilst also fostering a sense of responsibility and healthy competition among peers. Students learn from their own as well the mistakes of others and encourage their peers to do better. The idea is to compel students to want to learn- to force them out of their comfort zones without actually forcing them and well, so far so good. 
What personality traits do teachers need, to be successful?
I think we need to be 'empathetic' towards our students, and 'driven' to keep learning from our students as well as otherwise. 
What do you think of technology in the classroom and how have you integrated it into your lessons?
I utilize technology quite a bit. I think it's very helpful. I use the Google Classroom platform for sharing information and submission of assignments. I also very often ask my students to access the links I've sent them on Classroom whilst in class- this is usually when I have an activity in mind.
And well, the projector. The projector is of serious amounts of help especially because I like teaching novels with visual aid. So when I was teaching Lewis Carroll's Through the Looking Glass, I found a film version that kept the dialogue as it was in the book. So I used to project parts of the movie that corresponded with the chapters I was teaching in class to give students a visual idea of what was going on and also make my classes a little more interesting. This way, the chapter was summarised visually and the discussion and analysis would then flow smoothly. So whilst teaching, say, the Chess motif that is prevalent in the novel, I projected a chess board on the white board and explained what each square meant. This looked much more appealing than a drawn chess board would have looked.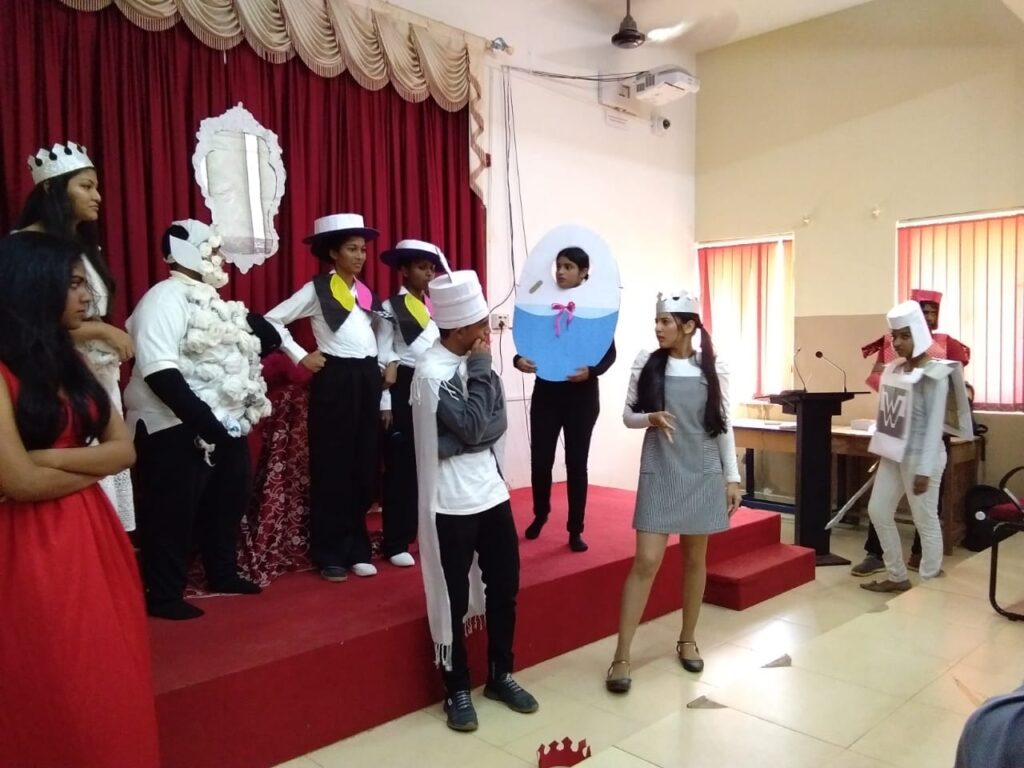 What are some of the biggest challenges you faced when teaching in Goa
Getting students to freely and confidently talk in English. Whenever something difficult comes up, students tend to switch to Konkani which is problematic in an English class.
With classes going online with the Covid-19 outbreak, how has the process been taking your classes online?
It is new and so it'll take some time to adjust to it but the main worry is ensuring my students have an internet connection to access these classes. All of them have smartphones (I know this because of the extensive use of Google Classroom) but connectivity is an issue that we are currently dealing with.
Do you feel online classes are the new normal? What is the importance of having classes in person?
As of now, safety is a priority so online classes are the safest bet. But online classes make teaching a bit impersonal. Earlier, I could gauge if a student was able to comprehend a topic or not based on their expression. Now I have to depend on them to tell me if they're able to understand or not, which could become an issue because many students shy away from asking questions and clearing their doubts. Also, I'm not sure if I'll be able to continue organising academic games online due to connectivity problems.
How have the rewards of your teaching career been so far?
I've seen so many of my students improve considerably over the course of two semesters. Some of them have finally come out of their shell and now participate freely in my classes. This is very satisfying.
Tell us how a day in your life looks like? Your schedule for a day right from the time you get up till you hit the bed at night.
So I start off with walking my dog in the morning and then hit a quick workout or some yoga, depending on how I feel. I then start preparing for my classes, so I either start reading or designing my lecture so as to avoid any glitches later on. This takes up most of my day and before you know it, it's time to walk my dog again. I have also signed up for music classes so in the evenings I usually practice what I've learnt in the previous class. I try to fit in a bit of leisure reading before I sleep and if it's the weekend, I try to watch a movie. I ensure I bake every Sunday though. I find it therapeutic.
What gets you excited about teaching?
Seeing my students grasp a topic and enjoy my classes- that gives me immense amounts of pleasure and also motivates me to keep going. If they don't like a particular method, I try to tweak it. So this is very challenging and also keeps things exciting.
If you had the chance to start your career over again, what would you do differently?
Honestly, I don't think I'd change anything. It may sound utopic, but I think every decision I've made has shaped me into the teacher I am today, and I seem to be doing alright.
If you had one piece of advice to someone aspiring to get into teaching, what would it be?
John Green said "What's the point in being alive if you don't at least try to do something remarkable". I'm just going to leave this here.
Do you have a story to share with the world? Send us an email at contact.goaninsider@gmail.com