To really know the game, you have to be passionate about it. This is the very ideal by which all basketball fans and players stand by. Basketball is the world's 2nd fastest team game and you have to attack and defend as a team to win. This means that each and every player has the same freedom in the game compared to other sports. With no goalkeepers and no specific shooters, any player can show their individual skills without restriction during the game.
India took a long time to recognize basketball and Goa still longer. With exceptional talent within the state, lack of facilities and opportunities can demotivate players. Hence we have seen a lot of Goan players leaving the sport in spite of being good at it because there are fewer chances to make ends meet by playing it. Sandeep Warlikar is that one individual who's passion for the game has pushed him to bring about changes and more opportunities to the game of basketball in Goa. Sandeep Warlikar strongly recommends that the State Government should plan an Academy Structural Training with a FOSS (Faculty Of Sports Sciences) for realistic goal-oriented training. This would go a long way in yielding medals for the state and further glory for our country. He believes that the emphasis should be on Olympic Sports Disciplines which can be shortlisted and categorized based on medal prospects and popularity.
Goan Insider presents the Goan Collective
Are your a Creator or a Business Owner?
Get yourself or your business listed on the Goan Collective and increase your brand awareness. Also get to know your fellow creators and entrepreneurs from Goa in our members only networking events
Learn More
At Goan Insider, we sat down with Sandeep to learn of his journey with basketball and sports. He has shared a lot of coaching tips and disciplines required to be a successful basketball player. The excerpts of our conversation are below.
Tell us a little about yourself
I am Sandeep Martin Warlikar, I am a basketball player and coach based in Goa. I have ably performed as a Coach, Sports Administrator, organizer, promoter of Basketball, and other sports for over two decades. I currently work as a Senior Basketball Coach with the Sports Authority of Goa and in charge of Zone 1. I am the only Goan Coach from the Sports Authority of Goa who has completed my M. Sc. in Sports Coaching. I have completed my B.F.I. Level 1 Coaching Certification with F.I.B.A. I am also a B.F.I. qualified referee and official.
What aspect of your game is the most difficult for you to master?
If you are speaking about the sport, any sport or any professional aspiration is not too difficult especially if someone spends a decent 6 to 8 hours a day harnessing one' forte. Basketball to me has not just been a passion, but an obsession.
What do you feel has been the high point of your career?
I would say I have not achieved the highest point of my career yet, but I am hopeful. The highest point of any coaches career would be to wear India Colours. And even better would be my trainee' (boys or girls) go on to play for the country.
You have represented Goa 23 times in this game. Which has been the most memorable game that you have played? Tell us more about it.
Yes, I have represented Goa on 23 occasions in various capacities such as Captain, Head Coach, Coach, Contingent Leader, Coach cum Manager, with different roles to perform and added responsibilities that these roles carried. As a player, the Goa Team made it to the Quarter Finals at the SGFI Nationals held at Jaipur, Rajasthan. As a coach, Goa made it to the Quarter Finals twice, once at Chattisgarh Junior National (U-19 Girls) and a second time at Chennai (Womens Festival organised by SAI). Besides this, I have been a contingent leader for various SGFI Nationals where more than one discipline participated.
What inspired you to become a Basketball coach? How has that journey been?
My very dear friend, Joseph Fernandes (Joe) has been the inspiration. He is a Senior Basketballer to me by 4 to 5 years. Joe was coaching Don Bosco High School, Panjim, and Our Lady of Rosary High School, Dona Paula before I took over from him. I began as a Preliminary Coach with the SAG in 1993.
The journey has been great. In 1997, I completed my NIS Certificate Course (Basketball) from LNCPE Kerala and topped the same and was the second topper over disciplines. In 1999 – 2000, I completed my NS NIS Diploma in Sports Coaching (Basketball) at Patiala's esteemed SAI – NSNIS and was the second topper. In 2006, I completed the NIS Certificate Course (Health & Fitness Management) from LNCPE Kerala and was the second topper. I was an M. Sc. Sports Coaching (Degree) University Medalist in 2009 – 2011. I also did a Sports Administration from IOC, Delhi, and Yoga Certification in Punjab. Besides I have completed my FIBA – WABC and several other certifications.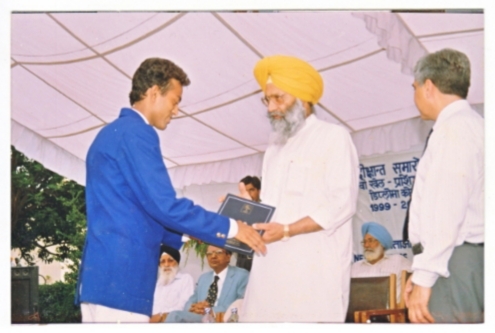 Why did you choose Goa as your home base for coaching? Where and whom do you coach?
I have been living in Goa from age of 1 but I was born in Mumbai. Therefore, Goa was the home turf and not a choice. Moreover, I am also employed in the Sports Authority of Goa as a Basketball Coach and a Zone 1 In-charge and have officiated as the Joint Coordinator too at the SAG Head Office. Presently, I am fortunate to operate and work under the guidance of the legendary footballer and Arjuna Awardee (2001), Mr. Bruno Coutinho as my Coaching Sectional Head.
My coaching centre is presently is Sharada Mandir High School, Miramar, for the boys and girls. They are divided into Beginners, Under 14 and Under 17 categories. Therefore, I have about 50 to 70 trainees. Besides, I myself promote two Basketball clubs, namely Dashing Damsels (Girls & Women) and Gladiators (Boys & Men). In fact, most part of my playing career, I have represented Don Bosco Oratory, Panjim and had evident dominance from 1994 right up to 2009.
What is your philosophy of coaching? How do you deal with discipline issues and repeat offenses?
My philosophy of coaching has a very professional approach.
I do not mix up trainees' personal life with sports.
I limit myself to educating what is right and wrong.
I believe in an all-inclusive philosophy and not autocratic.
I maintain a good rapport with the trainee's parents and guardians.
I aim at the overall development of a trainee.
I do have personal one-on-one counselling sessions with an individual trainee.
I deal and support with the ups and downs of trainees playing and personal needs.
I prepare my trainee both physically and mentally for a podium finish.
I spend a lot of time in inculcating discipline and ethical behavior.
I do not expect or teach them to win at any cost.
I try and make them understand the importance of class decorum, principles, and other social responsibilities.
I do conduct brainstorming team sessions for a feeling of unity and togetherness.
Though I have used "I" above, they are thought about the importance of "we".
How do you deal with discipline issues and repeat offenses?
In regards to discipline issues and repeated offenses, there is never the last time. They are like children, a family, therefore we do not and should not disown indiscipline trainees. Educate them as far and as long as they are your trainees. It is often noticed that the naughty ones are the better players or the out of the box performers.
What would you teach your players besides basketball? How would you do this?
I teach them all that is mentioned in the previous question besides also:
Respecting your opponents
Respecting your and opponents' team coaches and officials
Respecting the organizers, field, and table officials
Playing fair with respect to rules
Humility and decorum at all times
Self-discipline for team discipline
Punctuality and Regularity
Respect parents and elders in society
I do this by setting exemplary behaviour.
You are the only Goan Coach from the Sports Authority of Goa who has completed your M. Sc. in Sports Coaching with a Gold Medal. What made you pursue this and how is it helping you in your job?
Yes, I am the only Goan to have completed M.Sc. Sports Coaching Degree conducted at NS NIS, Patiala, and recognised by the esteemed Punjab University, Patiala which is famous for Sports excellence.
This course teaches us the scientific approach to Sports Talent Identification and Sports Training. It covers up various sports sciences such as:
GTMT (General Theory & Methods of Training)
Sports Physiology
Sports Psychology
Sports Anthropometry
Sports Biomechanics
Sports Medicine
Sports Biochemistry
Sports Diet & Nutrition
Sports Kinesiology
Statistical Methods in Sports
Research in Sports
Specialization in Sports
The above definitely gives me an edge of having the scientific knowledge in talent identification and sports training in Goa.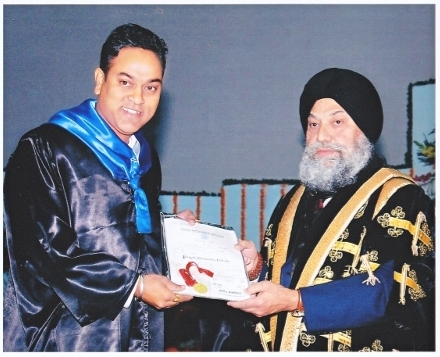 Tell us more about your other achievements in sports
I have been part of the 4 member observers team to study the Kerala National Games.
I have been instrumental in designing policies.
I have been instrumental in chalking down and giving expert inputs to tests and criteria for various recruitments.
I have been appointed on various committees.
I also provide administrative assistance to the Coaching Section of SAG.
I have been groomed administratively also during my service at the Sports Authority of Goa. As far as being a coach is concerned, I have produced 4 India Campers and one Senior National Gold Medallist, Shaheen Alifia Rebelo, who represented Chattisgarh on merit, and they unsettled Indian Railways (Women). I have roughly produced 250 odd National Level players from 1993 to this very day in both genders, male and female. My RCC (Regular Coaching Centres) has won over 60 State Championships and S. S. Dempo College had won 5 consecutive University Titles under my mentorship.
What has basketball taught you that carries over into the other areas of your life?
My obsession for basketball and passion for all sports has taught me self-discipline, team spirit, to chase individual goals, facilitated good health habits, got me good social recognition, and has awarded me with job satisfaction.
How have the rewards been so far?
Not as expected! I could have done better in another state or even abroad. I have this feeling of being underutilized in Goa. Sports and myself, both could have had better outputs considering my experience and qualifications.
What for you would be the ultimate achievement in your sports career?
First of all, I would like to focus on and complete my Ph.D. Further, I would like to take on some other sports professional education without depriving my urge towards coaching youngsters as I have managed to date. I have also goals to study until I am 60 years of age and becoming an important pillar as a policymaker and administrator in sports. Above all, I shall always continue training and learning.
What advice would you give to someone wanting to play basketball or any sport?
In the first place, participate in sports. Secondly, basketball is an awesome sport to teach and helps in the all round grooming of an individual. Never ever lose focus in your academic goals and performance, as India is yet to recognize, realize and reward sportsmen with professional openings and job opportunities.
Do you have a story to share with the world? Send us an email at contact.goaninsider@gmail.com