We have known Goa for it's upscale nightlife and really talented DJs and musicians. For years DJ's in Goa have entertained us with their mixes at top venues such as Sinq, Mambo, Cape Town and the like. Think about electronic music in Goa and not imagining the Goan DJs. Impossible right? There are two great exponents of the DJ scene in Goa. There are those who have laid the foundation and started a path, which today many young DJs dream of become as big as they are.
This brings us to the story of DJ Rinton, who is a well known name in the nightlife community of Goa. From Dubai to Goa, he has made his name heard. His journey to becoming one of the most 'in demand' DJ's in Goa has not been a cake walk, but he has made it with all his efforts. Today, it's hard to not come across Rinton's name on the poster of any top party in Goa. He has played at countless weddings, to birthday parties to festivals, you name it. Other than his passion for music, he is also known for his entrepreneurship. He founded a DJ Academy in 2015 and Big Fit Bowl in 2020 which are both doing pretty well.
Goan Insider presents the Goan Collective
Are your a Creator or a Business Owner?
Get yourself or your business listed on the Goan Collective and increase your brand awareness. Also get to know your fellow creators and entrepreneurs from Goa in our members only networking events
Learn More
At Goan Insider, we spoke to DJ Rinton's on his journey. The excerpts are below.
Tell us a little about yourself
My name is Rinton D'Souza and I go by the stage name 'DJ Rinton'. I was born and brought up in Goa. I always had immense love for music and loved dancing as well, right from school functions, annual days to college festivals. I was also a part of a dance crew where we performed in various 5 star hotels for special events. I used to choreograph as well. I used to record tracks played on FM radio back when buying a cassette was a big deal. I used to patiently wait to press that record button just after the RJ was done talking. I always loved showing people my music collection no matter where I went, be it family birthdays, summer camps, you name it.
When and why did you start DJing? Who were your early influences?
My friend, DJ Joel had a big influence on getting me started. We used to party together and I learned how to operate the equipment a bit by just watching the other DJs play. One day due to some unforeseen situation I had to cover for DJ Joel at a gig which was my first unofficial gig. Since then there was no stopping. I have been Djing since 2002 and don't wanna stop.
I was influenced by a lot of our local goan DJ's like Ajit, Troy, Joel and DJ Ivan from Bangalore. There were also a few international artists as well who I looked up to.
What is it about music and/or sound that drew you to it?
Music has the ability to make you feel just right.

DJ Rinton
Music has the ability to make you feel just right. With so many genres and styles of music to choose from, you can always make yourself feel better with some great music. Music won't disappoint you for sure. It just makes you feel good at any given time.
What skills do you think DJs need to be successful?
One of the most important skills to be successful as a DJ would be the ability to read the crowd and make a smooth transition to whatever genre needed.
What were some of the main challenges you faced when starting out as a DJ?
One of the most difficult challenges I faced in my initial days as a DJ was that I didn't own my very own computer, so it was very difficult sorting and downloading music. I had to get the music from friends or visit their homes to burn CDs or download music.I have even spent nights at cyber cafes at this task. This difficulty made slack on music for sometime, but I always had friends who were there to help. It's only when I moved to Dubai that I started using a laptop which I borrowed from a friend which was a big help. Eventually I managed to buy myself one later on with my earnings.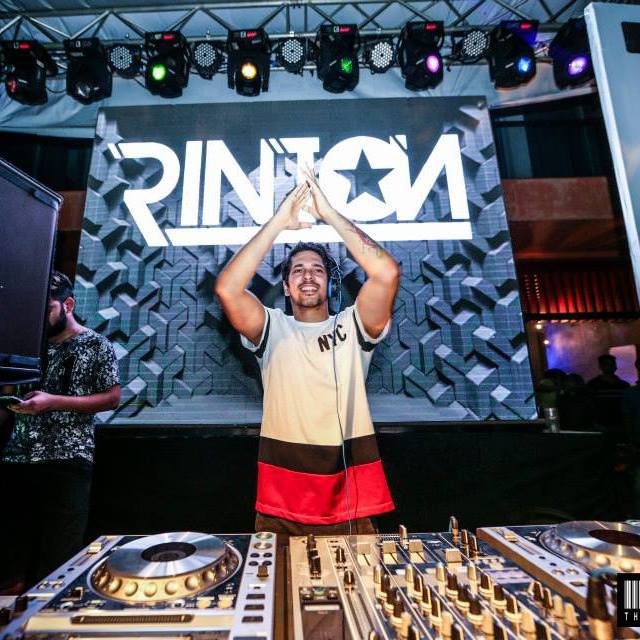 How do you stay up to date with the latest music trends?
Every single day there is new music being released by various artists. The easiest way to stay updated is by following a particular artist on their social platforms and keeping an eye out on their new music. Also, our DJ community is like family and we keep each other informed about what's new all the time.
What techniques do you use to engage listeners?
I don't really have a particular technique, but I try to build a good rapport with the people and show them my style of music. So when I do play a set, those who have been listening to me for a while and love my music, come over and dance. But due to the recent trend I try to stick to tracks which would be more commercial which is easier to relate and then probably mix them with a brand new track to have a variety.
What are some of the considerations that go into deciding which track to play next? How far do you tend to plan ahead during a set? If you had a gig coming up tonight. What would your approach look like?
Very rarely do I go with a prepared playlist for a set. I may have a tracklist with me but it all depends on various factors. I have to keep in mind what music the DJ before me has played, reading the crowd and always ready to adapt to the situation is also important. Not every gig will be the same. One has to be prepared to switch to any kind of genre at any given time of the gig.
If I had a gig tonight, firstly I would keep in mind the venue and get an idea about the crowd coming in. So I will have multiple tracklists prepared and my final decision on which to play would be based on reading the dance floor and checking the vibe around.
How was your experience with residency in Dubai and Goa? Would you prefer residency or freelancing?
Being a resident DJ was a really good experience. It helped me try out my music collection on a regular basis which gave me a good enough time to practice as well. On the other hand, I'm currently really enjoying freelancing because I get to travel a lot, meet new people and visit different clubs all over.
What inspired you to start your own DJ Academy? How has that journey been?
When I started DJing I didn't have the luxury of practicing on a regular basis. So this was my way of giving an opportunity to others which I didn't get. Since a lot of people used to ask me to teach them, I decided to start my own DJ Academy in 2015. In the beginning I had quite a few students and a handful of them pursued their dreams and are now performing on a regular basis at clubs in Goa. It's been an amazing time teaching so many people and hopefully inspiring a few along the way.
Could you take us through a day in your life, from a possible morning routine through to your work till you hit the sack? Do you have a fixed schedule?
I am a freelance DJ, which means I don't play everyday. Probably 2-3 times a week I do a gig or sometimes just the weekend. My routine doesn't change. I wake up in the morning, eat breakfast, sit with music to sort them in categories, check what's new in store, hit the gym, later catch up with friends and end the day by spending time with my family at home.
How has the journey been so far? Right from starting to playing at clubs to now festivals
My journey so far has been amazing. I have come a long way and I couldn't imagine it any other way. I learned a lot and still keep learning. I have performed at birthday parties, weddings, communion parties, beat shows to club residency, out station gigs, Dubai residency to finally playing at top music festivals in India. The journey has been incredible and worthwhile. I have made so many memories along the way to last a lifetime.
With the onset of the Covid-19 pandemic and entertainment coming to a halt, how have you been coping with the situation?
When the pandemic hit us in March, nobody anticipated it to last this long. I still remember my last gig at Sinq, Goa and at the time I didn't have a clue that I wouldn't get to be on deck for the next few months. Initially, I streamed a few sets online streaming but then I just lost interest as i couldn't really connect with the people. My peers were also disheartened with the situation and we are just waiting for the day when we can leave all this behind and party like we used to.
It has been really difficult for us in the industry. A lot of us haven't got paid our previous dues as most of the clubs are shut. As Djing was our only source of income we were hit big time. We are probably the last sector the government really cares about. Many people working in clubs, bars, event companies and their employees are still facing hardships. I just hope we do start soon and receive the support to push things back to normal.
What would you say is the most rewarding part of being a DJ? What is next for you?
Being praised for a set is probably the biggest reward for any DJ. This reinforces the confidence that you can read the crowd well, that your choice of music was on point and that everyone had a good time dancing. Of Course having a packed dance floor is a big reward in itself.
I have been working on my dream project of opening a healthy food cafe in Panjim. I managed to take this plan forward and opened the cafe during the pandemic. It has picked up really well and we are getting a positive response. But I'm just praying we get back to the old normal soon.
Do you have a story to share with the world? Send us an email at contact.goaninsider@gmail.com